About Agent Banking
Eligibility for an Entity to become NRBBL Agent
An Agent should be a juristic person;
He/she has to possess a business license or permit for any lawful business activity;
He/she has to possess at least one year of experience (minimum last one year) on ongoing basis;
He/she has to be socially accepted;
He/she has to be financially sound for running Agent Banking business smoothly;
He/she has to possess managerial, financial and technical expertise for managing Agent Banking Outlets;
The Agent must have at least two persons (a manager and a teller) with required managerial and financial expertise for this purpose and one counter for cash transaction.
Non Eligibility
Bank related persons as defined in section 26M of the Bank-Company Act, 1991. Bank officials will not be eligible to become an agent in the same bank within 1 (one) year of his/her retirement or resignation;
Defaulters with any bank or financial institution;
Bankrupts;
Convicted by a court of law, up to 3 (three) years after completion of sentences or penalties;
Under investigation for any criminal charges;
Under investigation or convicted of money laundering or terrorist financing activities;
Under investigation of the Anti-Corruption Commission.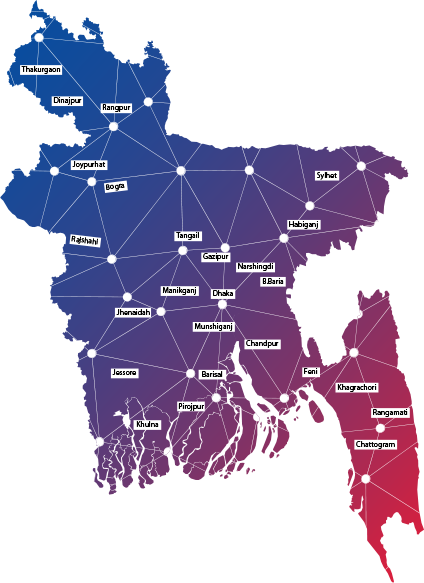 307

Outlets

65

Upazila

28

Districts