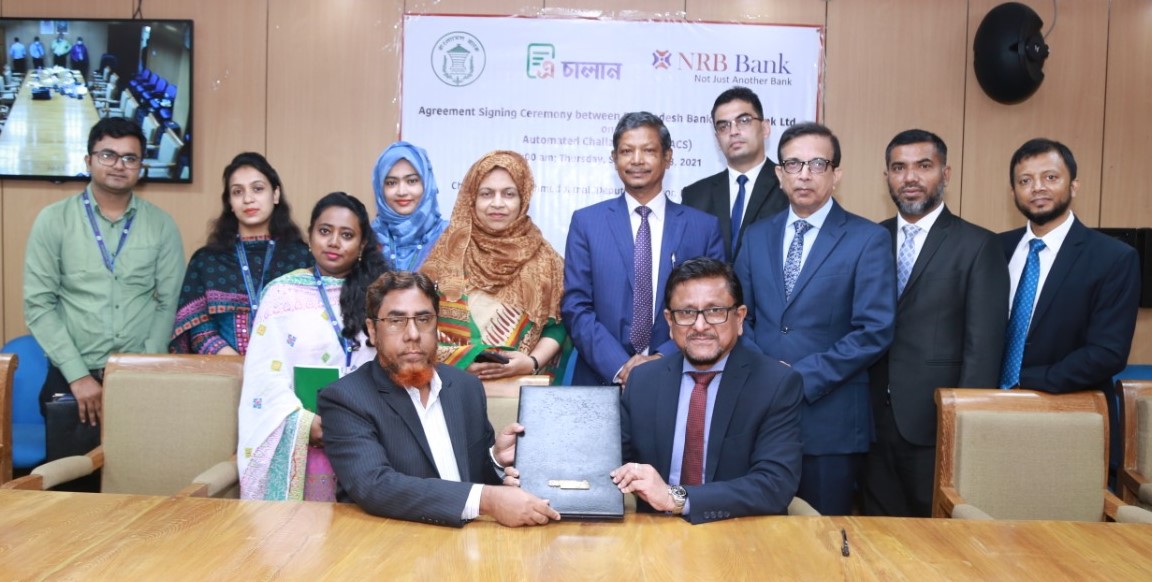 NRB Bank Ltd and Bangladesh Bank have signed an agreement to collect Treasury Challan through Automated Challan System (ACS) held at Bangladesh Bank Head office today (23 September 2021). In the presence of Mr. Ahmed Jamal, Deputy Governor of Bangladesh Bank, Mr. Mamoon Mahmood Shah, Managing Director & CEO of NRB Bank Limited & Mr. Forkan Hossain, General Manager, Bangladesh Bank signed the agreement on behalf their respective organization.
Under this agreement all the branches of NRB Bank Ltd will collect passport fees, value added tax, corporate and personal income tax and other government fees. The automated Challan System will allow the customers to pay their treasury challans from any branch of NRB Bank Ltd. Soon, the system will be able to collect 196 types of revenues and fees, including VAT, land registration and car registration fees. A ground breaking progress will be made in the revenue management of the government with the new system.
Nurun Nahar, Executive Director of Bangladesh Bank, Mr. Md. Shakir Amin Chowdhury, Deputy Managing Director, Mr. Oli Ahad Chowdhury, EVP Head of Retail Banking, Mr. Sarfuddin Md Redwan Patwary SAVP, Head of Operations of NRB Bank Ltd along with other executives from both organizations were present in the signing ceremony.